Crooked Mile Tattoo
Commissioned to design the brand and assets for this new business start-up. The group of artists needed an identity as a grounding for the mix of styles each artist incorporated in their work. Stand out words from the brief were, Victorian, letterpress and contemporary.
Brand creation
Signage
Business collateral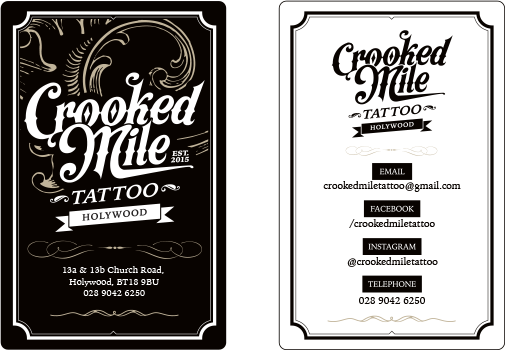 Connor Curran
Founder / Crooked Mile Tattoo
Paul was the ideal professional to deal with our design needs. His erudite nature with a personal approach made him a pleasure to work with. We had only a vague idea of what we wanted our brand and signage to look like, but after discussing our ideas, and with some helpful suggestions from Paul, he came up with the perfect design to suit the ethos of our business. His expertise in this field was very welcome, and the end result surpassed all our expectations. The product he crafted for us is unique and recognisable. We will definitely be using his services again.